Fillet knife has a flexible blade that is curved to make cutting through bones easier. It's essential for fish filleting and for removing the skin from the meat, as well as many other tasks.
However, it's no secret that many people struggle with filleting their catch. I know as I have a similar experience, and that's why I've put together this comprehensive guide to finding the best knife for filleting salmon.
It is not about the price of the knife, it is about the right tool that can make your filleting experience better. You don't need expensive knives to fillet your fish. In this post, I'll discuss what to look for in a quality knife for filleting fish.
HOW A GOOD FILLET KNIFE HELPS YOU
There are three things a good fillet knife needs to do: fillet a fish, skin the fish, and de-bone the fish.
Filleting the fish: A good filleting knife should be able to take out the maximum amount of flesh from the fish (bone and cartilage). So, you don't lose any flesh of the hard-earned catch. That is why today we are discussing about the best filleting knife for salmon.
Skinning a fish: Thinner the knife better for skinning a fish. As a thin knife can remove the skins efficiently from the flesh. It will minimize the possibility of wasting fish that are close to the skin.
De-bone the fish: A good filleting knife will help you remove the bones from the filets. You may want to use a paring knife to remove the smaller pin bones and other small bones like rib bones. But a fillet knife does it easily. It also can cut through the larger bones.
WHAT IS THE BEST HAND GRIP FOR A FILLET KNIFE?
A good handle provides a good grip and allows you to hold the knife more securely. The handle should be comfortable to hold, even when holding the knife for an extended period of time. The knife should feel balanced when held in your hand.
Remember to choose a handle that does not slip when it is wet. You can check our guide for a good knife handle.
FILLET KNIFE BLADE FLEX AND HARDNESS
Price of knives depends on the quality of the material used in the blade. A good knife blade will make it easier to cut a fish and it stays usable for a longer period of time.
Ideally, you should go for high carbon blades or stainless steel blades. Do not forget to check the HRS score of the material. It should be between 55-63.
MAIN FEATURES OF A FISH KNIFE
If you want to buy a professional fish knife, pay attention, we have compiled the most basic characteristics of fish knives so that you can make the right choice.
Comfort: one point is clear, the special knives for fish make complicated cuts very simple thanks to the sharpness they have and they can be cut with little effort. If you want salmon fillets, tuna tacos or prepare a plate of sashimi, with the right knife you will do it in no time.
Edge: The edge of this type of knife is usually very impressive, it is also useful for cutting vegetables that are not very hard. They also have an elongated and thin blade, unlike knives for cutting meat. When it comes to cutting larger fish, you can find knives for fishmongers with a larger edge and size.
Brands: The design of Japanese knives is one of the most beautiful and successful for cutting this type of food, but there are other models and brands that are also recommended for cutting fish without problems. In addition to the Japanese brands that are of great quality, you can buy a set of special knives for fish such as Arcos or other very interesting options such as WMF, 3 Claveles or Wüsthof.
Materials: The idea is that it is made of stainless steel, which is very resistant, and the handle is made of wood or other resistant and durable materials.
Size: The size of the blade determines how easy it can be to cut a particular fish, you can count on blades of 4, 6 or 9 inches among others. For example, the larger ones of 8 or 9 inches are more recommended for cutting salmon, tuna or trout.
Flexibility: – All fish knives need to have a long, thin blade that bends fairly easy to slide through fish meat and bones.
Style of Fillet Knives: German vs. Japanese, the two most common styles of fillet knives are the German (Scandinavian) style and Japanese style. They have many similarities but here are some general differences which may help you better choose the best fillet knife.
You can also read best knife for cutting raw meat here.
BEST FILLET KNIVES FOR SALMON
1. DALSTRONG Gladiator Series Boning and Filleting Knife
Highlights of the knife:
High carbon German steel (56+ HRS)
Tripple riveted G10 Garolite handle
16-18 degrees per side hand-polished razor-sharp blade
NSF certified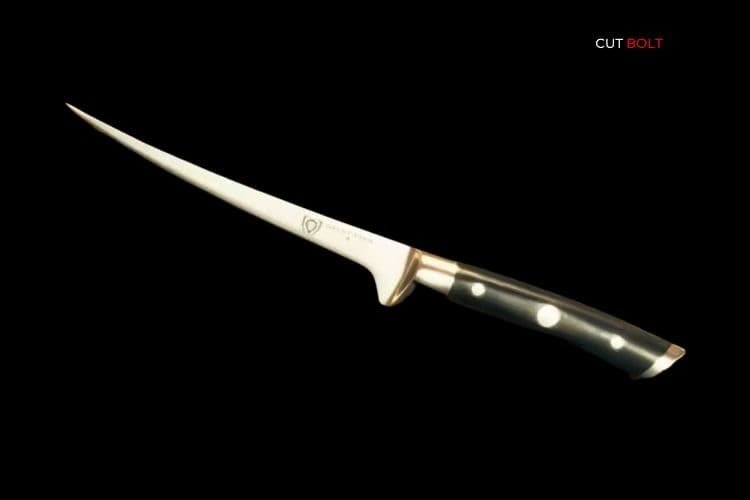 Why I recommend it: This 6-inch German fillet knife is specifically designed to cut meat and tendons from the bone. A series of pillows along the edge of the blade along with a 16 to 18-degree sharp edge per side prevents the premium quality high carbon steel blade from jamming in the meat by reducing friction, which allows you to smoothly cut the meat.
Perhaps its most striking feature is the sweeping curve of its blade and handle, both of which provide excellent maneuverability for working the blade between skin and meat and around bones and joints.
With a hardness rating of 56+ on the Rockwell scale, this knife is hard enough to hold a sharp edge without being so hard that it cracks under the pressure of filleting. A toe-to-butt full tang construction adds durability, and a wide gusset provides counterweight and protection against cuts and nicks.
This one is my first choice as best knife to fillet salmon.
G10 Handle.
Two Sheaths.
NSF Certified.
Razor sharp full-tang blade.
Hand polished edge at 16-18 degrees per side.
Need frequent sharpening, as it tends to get dull.
2. Kast King 6-Inch Fillet Knife – Best Fishing Fillet Knife
Highlights:
G4116 medical grade German Stainless-Steel
Choice of different sizes
Best budget filleting knife
Non-slip comfortable super polymer grip
Auto water draining sheath
Why I recommend it: This KastKing knife is our second pick for many reasons. First, look at the price! We think you get what you pay for with this particular purchase and would make a great knife for chefs, home cooks, and those who enjoy fishing.
This knife has been made from the finest German stainless steel and the blades are so sharp that you get a protective sheath to prevent the razor blades from damaging your fingers during storage. Also, the open slots of the sheath help water to drain out keeping the knife dry.
This super-shaped knife can be used in both freshwater and saltwater. It is suitable for cutting fresh and frozen bait, for filleting fish and can even be used for big games such as tuna and salmon.
The blade is strong and rigid and has a serrated edge, making it perfect for threading. A knife should feel comfortable in the hand and this particular model features a non-slip polymer handle for comfort and safety.
G4116 German Stainless-Steel blade.
Choice of 6", 7" & 9" blades.
Non-Slip Super Polymer Grip.
Knife sheath with open slot to drain water.
The Polymer handle is prone to get discolored.
3. Rapala Fish 'N Fillet Knife – Best Salmon Fillet Knife (Popular)
Highlights:
Why I recommend: Can we take a moment to appreciate the beauty of this boning knife? Even if you've never used it, wouldn't it just look pretty in your kitchen?
This terrific outdoor fillet knife is created for the regular angler. You won't find this fillet knife in anyone's kitchen, but more likely in their address box. The knife is designed for anglers to wash their catch rather than the chef in the kitchen.
As you know, we are not satisfied with looks, and that is why this beautiful knife has been added to our list, because it is also very functional.
The knife has a very cool exterior look. It has a polished classic reinforced birch handle and a full-length tapered blade.
The stainless steel blade is fully flexible and has a razor-sharp edge that can be maintained with the single-stage sharpener which is also included.
Also includes a beautiful leather case that has been decoratively worked to keep it when not in use.
Great addition to any angler's gear
Stunning designer style and leather case that will appeal to some outdoor enthusiasts
Non-stick coating on the blade to facilitate precision cuts
Maybe not the conventional fillet knife you would use in a kitchen. This knife should only be used on a very small scale
4. Wusthof Classic Fillet Knife 18 Cm- Best Knife To Fillet Fish
The Powerhouse Fillet Knife
Highlights:
Heat and impact resistant handle
Long thin, flexible blade for deboning and filleting fish
Entire length of the blade has optimum cutting edge
Why I recommend: Wusthof with 200 years of experience in making knives is a known knife manufacturer in the world. So there is no doubt that this fillet knife is made with the best materials 58+ HRC.
The blade is made from a single piece of Solingen carbon stainless steel that tapers at the end for precise cuts. The patented synthetic handle can be held in place against all the tang with 3 rivets handle for extra durability.
The knife comes with a dyed leather sheath to store the blade when not in use. This knife can also be among the best knives to use for filleting fish of all types and in massive quantities.
The blade is constructed from high carbon stainless steel which means the knife will remain corrosion-free and durable for many years to come.
Created by the world's leading knife maker.
The knife consists of a full tang blade and a 3 rivets handle to ensure maximum balance and filleting power.
If you do not use the knife regularly, and if not stored properly it may get rust.
5. ZWILLING Gourmet 7-Inch Fillet Knife
The best fillet knife for the money
Highlights:
Ice-hardened FRIODUR blade
Triple-riveted ergonomic handle
Full tang blade
Why I recommend: You get the knife at a reasonable price, easy to use, flexible, and sharp. It can fillet fish like butter. What else we need!
This chef's knife is really quite nice for the price! Also, made by another well-known knife maker, this could be a great option to choose.
The blade is made from a single piece of high carbon stainless steel. The substance type is their own unique formula of stainless steel which differs from most other steels.
The blade also has a full tang to ensure durability and 3 rivets to hold the conventional POM design handle in place. The rather large fortifier is curved to provide good balance to the knife for more precise cuts.
The knife consists of a full tang, three rivets and superior carbon steel which implies the knife is built to survive.
The fillet knife is quite durable, powerful and equally balanced, ideal for producing precise cuts.
Not very efficient in cutting the head and tail of the fish, it could have been more.
6. Victorinox Cutlery Fillet Knife 18 Cm
The Workhorse Knife for filleting salmon
Highlights:
Price
Excellent user experience
Performance
Why I recommend: Considering the brand's name and trust, we can already assume it is a good knife. However, we don't go just by the brand name. This knife has received 86% five star rating from users. One of the best knives that I found for filleting fish.
Victorinox is also a well-known cutlery manufacturer of quality blades. But this fillet knife might not be the best option in their stock.
The blade is made of high carbon stainless steel to ensure the durability and edge retention of the blade. Although the blade doesn't exactly have the best edge retention, it can be hammered again and again with a whetstone in case the blade becomes dull.
The handle is designed to fit your hand for easy handling. The triple riveted rosewood handle is not only beautiful to eyes, it offers great control also.
The blade is made of high carbon steel which reinforces the integrity of this blade.
Solid steel that can be sharpened many times without damaging the edge.
Best budget filleting knife for salmon.
It received 100% five star ratings from users till date when I am writing about it.
Nothing so far.
Although the blade is quite powerful, it lacks versatility, which is essential to make a fillet knife work properly.
7. Shun DM-0743 Classic Boning 6-inch High-Performance, Double-Bevel Fillet Knife
The Best Fillet Knife for the Professional Chef
Highlights:
D-shaped pakka wood handle for excellent control
Supreme edge retention with VG-MAX steel
Beginner friendly
Why I recommend: Ah, we are talking about filleting knife then why do I suggest a boning knife? Boning knives and filleting knives are very similar and operations are also similar. This knife is good for both the worlds, it can efficiently fillet and de-bone for you. It is basically a two-in-one.
Shun is a renowned titan of the knife market. They create excellent knives made from the best quality materials in the world. Many would claim that they make the best fillet knife for getting saltwater fish.
This 15cm curved fillet knife is made of 33 layers of carbon-free brushed VG-MAX steel stainless steel. The blade means a Damascus-style layout, but can also be incredibly flexible.
The patented D-shaped handle creates a fantastic consumer impression for easy handling. The edge of blade retention and sharpness are of the finest quality and are maintained to the highest of expectations. This knife could be a great addition to any knife collection.
The knife is constructed from high quality stainless steel which reinforces the integrity of this blade.
D-shaped handle makes it easy to make precision cuts around skin and bone.
The blade is extremely resilient while utilizing excellent edge retention.
Although the knife is made from low-carbon steel to help with sharpness and versatility, it is also prone to breakage if not properly maintained.
8. Gerber Gator Fillet Knife, 7.5-Inch – Best Cheap Fillet Knife
Why I recommend: I am not recommending this fillet knife because it a great knife. If you are a beginner and don't want to spend too much then this is the knife for you. The lowest priced knife that I picked up for the list. But why did I choose this knife? It is purely based on price – value ratio. The knife is pretty decent for the price you pay.
This fillet knife is from a very reputable company that has been producing quality knives for a long time. Gerber is famous for its outdoor equipment and lifesaving instruments.
The 18cm blade is constructed from lightweight steel with a convex edge. This gives the blade a great retention advantage and effortless handling.
The blade is made from a single piece of steel and contains a full tang. The handle is made from a particular material to allow the blade to be used in almost any weather condition without falling off.
Finally, the knife includes a hard molded sheath and a ceramic blade sharpener. This makes the knife easily accessible and helps sharpen the instrument anywhere and anytime.
The patented Gator handle manages to provide easy maneuvering in almost any weather condition.
The knife has a full tang and continues to be constructed from a single piece of stainless steel, creating a stronger product.
Has a strong sheath for safety and effortless access.
Has a built-in ceramic sharpener.
Full-tang blade.
Heal contains no rivets to hold the blade in place.
Some users complained that the knife broke. That can happen to any knife, depends on how you use it.
9. Arcos Filleting Knife – The Best Price Fillet Knife
Why I recommend: The fact that this knife is manufactured by the renowned Arcos brand and is one of the best valued by the community tells us a lot.
We want to highlight its narrow blade and straight handle that make it very manageable. This is important because if we have little experience, this knife is perfect to start with.
The blade is made of Nitrum stainless steel, an Arcos formula that hardens the steel by applying Nitrogen. The handle is made of polyoxymethylene (POM), a material widely used in its knives due to its resistance, hygiene and easy cleaning.
It is a highly recommended knife for those who are learning because of its easy handling and because it requires little investment. On the other hand, its narrow blade makes it very suitable for cutting meat.
Designed for daily use giving importance to resistance and handling.
Its narrow blade allows us to make fine and precise cuts.
Support of a recognized Spanish brand.
For advanced cooks with years of experience, it may fall short.
10. Victorinox 16 cm Flexible Blade Filleting Knife Blister Pack
Why I recommend: This knife has earned a place in our recommendations for its sharpness and lightness.
Starting with the sharpening, the ease with which it moves through the piece is very striking. We saw it in action pulling out some chicken breast fillets and were amazed at the very clean and precise cuts.
The handle has a very positive point and is that it is super light, this is very good for handling and is appreciated in practice. However, some cooks like a sturdier handle.
The blade is made of stainless steel with a length of 18 centimeters, a perfect measure to fillet all kinds of food. The handle is made of blist (a derivative of PVC) very light and with a design that gives us a good grip.
It's cut is very fluid and clean.
Great handling thanks to its lightness.
One of the best valued in the entire community.
The handle can be a bit uncomfortable for some chefs.
WHICH FILLETING KNIFE IS BEST FOR YOU?
If we do not have much experience, buying a filleting knife can be somewhat complicated. Next, we are going to leave you a series of recommendations so that you can make a quality purchase:
The blade has to be made of stainless steel – We need a hard, resistant and flexible material. In this case, stainless steel is your best option.
The handle must be made of a hygienic material – The handle will be in contact with the fat and internal juices of the meat, we need it to be hygienic and easy to clean. Wood and polyoxymethylene (POM) are good options.
The size of the blade – The ideal would be between 15 and 18 centimeters. A shorter edge makes the knife easier to handle, but a longer one works better with larger pieces.
WHAT DIFFERENTIATES A FILLETING KNIFE FROM A TRADITIONAL KITCHEN KNIFE?
Many people who are just starting out in the world of cooking wonder why a filleting knife is needed. Why not take the onion knife and start taking fillets?
The most important thing about a filleting knife is its very sharp and fine blade. Other knives such as the onion knife with its wide blade when filleting take out irregular pieces and tear the meat.
Felting knives are specially designed for this task and are the only ones in the kitchen that can produce steaks with a clean and precise cut.
Best Size Fillet Knife For Salmon
Though a 9 inch knife is recommended as best size fillet knife for salmon, you can buy a 7.5 inch knife. It will suffice all your filleting needs.
Final Words: Best Knife For Filleting Salmon
With so many options, it's worth the investment. This is a big reason why I recommend Wusthof's Classic Fillet Knife (7-Inch).
To get a high-quality knife that will last you years, invest in a quality blade up front. If you have any questions or concerns about the fillet knives above, don't hesitate to contact us or leave a comment below.