Best knife for chopping vegetables: Choosing the right knife for the job can make all the difference when it comes to cooking and preparing your meals.
When it comes to cutting vegetables, the best knife for the job is one with a very thin, sharp blade, comfortable handle, is easy to grasp, and is balanced so that it stays where you put it. It needs to have enough weight in the blade to keep it stable, but not so much that it is difficult to wield.
Full tang, which means the entire blade to handle (the part of the knife that enters into the handle should go till the end) of the knife is made of one piece of steel. This helps give you a secure grip on the knife, as the knife is less likely to slip out of your hand. It also makes it easier to sharpen the knife.
As Nakiri knives are specialists for cutting vegetables and Santoku knife is a mix of nakiri, deba knife and gyuto knife (it can cut meat, vegetables and fish) check Nakiri vs Santoku.
Here are the best knives that we have tested with respect to cutting vegetables:
Also Check:
Best knives for chopping vegetables
Here is a list of the best knives for cutting vegetables that have been picked up by the Cut Bolt Editorial team for you.
1. TUO Nakiri Knife – Vegetable Cleaver Kitchen Knives
Strong Points:
Pinch grip bolster
HRC56±2 HRC German stainless steel
Tuo lifetime guarantee
I've been using my TUO Nakiri Knife for a few months now, and I'm still in love with it! It's such a good traditional Japanese knife (usuba knife) that I'm always happy to have it on me.
The knife itself is very sturdy and well-made, with a full tang design which makes it much more secure than other knives. You can easily chop any type of vegetable with Tuo Nakiri knife. It is super sharp at HRC HRC56±2 and has gone through vacuum heat treatment.
The knife is made from German stainless steel, so it's strong and will not rust over time. It's easy to resharpen, so you don't have to worry about that.
The pakkawood handle is well designed and polished for a comfortable grip and stable operation.
I'm really happy with the knife and recommend it to anyone who wants a good quality knife that will last for many years.
2. DALSTRONG Nakiri Asian Vegetable Knife
Strong Points:
56+ HRC
G10 Handle
NSF certified
3k + positive review by users
If you are the kind of person who would normally only buy one type of knife and can't decide between a Western-style nakiri knife and a Japanese one, then this is the knife for you. It's got everything you need to make a great knife choice. It's got a great feel, it's a full tang design, and it's built like a rock.
The first thing you should know about this nakiri is it has a very long, full tang. This not only makes the knife more durable, it also gives it a wonderful balance.
The second thing you need to know is the steel is German-made, which gives the knife impressive sharpness and edge retention.
The knife will need sharpening only once or twice a year depending on your uses. When it comes to a top-notch nakiri knife, there's no contest: The Dalstrong Gladiator series is hard to beat.
These knives have all the quality I just mentioned, plus a few more: The handle is comfortable in your hand, even after a long session (G10 handle).
The steel is very hard (56+HRC), which means the knife will last a long time; the steel is non-reactive. It is one of the best knives for cutting hard vegetables.
Razor sharpness at a 16-18° degree angle per side
Maintains the perfect balance between blade sharpness and maximum resilience
16-18° degrees per side for culinary challenges
Triple-riveted for maximum robustness and incredible edge retention
Precision-forged, ultra-sharp high-carbon German steel
Cleans easily for low maintenance
Some users complained about broken blades
Slightly overpriced
3. Mercer Culinary M20907 Genesis 7-Inch Nakiri Vegetable Knife
Strong Points:
High carbon x50 Cr Mo V15 Soligen (Soligen, Germany) steel
Taper-ground edge
10k + positive feedback from users
If you're looking for a nakiri knife that delivers on value, you won't find anything better than a high-quality, well-made knife from Mercer Culinary. The razor-sharp edge is just as good as a much more expensive, "mass-produced" knife. The heavy-duty, thick, ergonomic, best-in-class handle and the lifetime warranty seal the deal.
The perfect nakiri knife should have a classic thin profile, and excellent edge retention and durability. This knife from Mercer Culinary has all those features, plus it comes with a full tang construction, so you know it will last a lifetime.
This is the best knife I've ever used. It's so comfortable to use and offers a non-slip, bacteria-resistant surface on which to grip the knife. And it has a great balance to the lightweight, easy-to-maneuver blade. In my opinion, it's the perfect knife for the casual user who wants a superb cutting tool without all the extras that come with a high-end, complex culinary knife.
Santoprene handle is another added advantage. It is non-slippery, comfortable to hold and durable.
Affordable and value for money
Easy cleaning & sharpening
Lightweight blade
Only hand-wash recommended
4. Miyabi Evolution 6.5-inch Nakiri Knife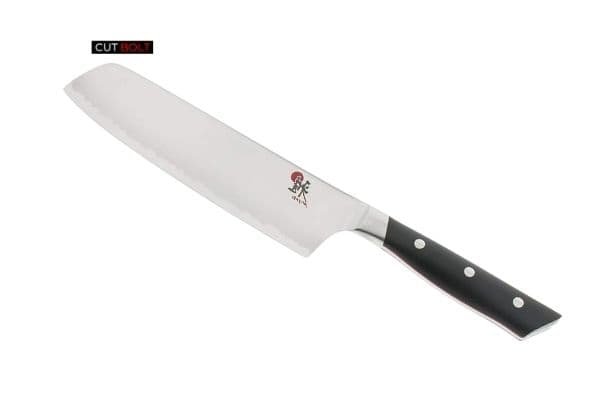 Strong Points:
Sandvik 13C26 steel
Dry Sharpened blade
A fine blend of Japanese knife tradition with German technology
If you are just getting started in the world of knives or an expert chef, you should consider the best nakiri knife you can afford. In that case, Zwilling Henckels' Miyabi Evolution is the one to get. It combines the best of both Japanese tradition and German innovation, and as a result, it's sharper, more durable, and more comfortable than any other nakiri knife I've ever used.
I bet you won't need to sharpen this knife more than once every six months. The FC61 grade (fine carbide) stainless steel used to make this knife, gives it more strength, sharpness and lasting capacity.
It really is as good as it is expensive. It's got a full tang construction, which gives it excellent balance and durability. Not only does it give excellent performance, it has an ergonomic and lightweight handle, which makes it easy to achieve precise cuts. If you have the money in your kitchen budget, this is the knife for you. For me, it is the best knife for chopping.
Sharpest nakiri available on the market
HRC 61+ best steel used
Bornt to cut precisely
5. MOSFiATA Nakiri Chef's Knife (Vegetable Knife)
Strong Points:
Sturdy, super sharp nakiri knife for chopping vegetables
Hand polished and edged at 14-16 degrees each side for precision cut
Well balanced solid hand
If you are looking for some really reliable kitchen cutlery under $40, consider this knife. It has all the qualities of a great knife to work with for home cooking. It looks good enough to be a gift, and feels good enough in your hand to make you feel like you're really getting serious about cooking. MOSFiATA Nakiri vegetable knife is a gem for cutting vegetables and fruits.
It has a triple-riveted wooden handle which is comfortable and easy on your hand. The full tang 7-inch long knife is the perfect size for nakiri. Mosfiata has worked well to make the knife good-looking as well as performing.
The knife is made from durable German stainless steel which is sharpened at 14-16 degrees on each side. At 56 ± HRC, the blade is durable and sharp enough to cut through any vegetables you think of. The knife has 8.8oz of weight for supreme balance while cutting food items.
A good vegetable cutter knife at an affordable price
Perfect size and weight
Sturdy and comfortable triple rivet design handle
Ideal for both people who cook frequently and those who are just casual
Many users complained it is not Damascus steel (The seller has explicitly mentioned that it is not Damascus steel, so that is not a downside with the knife).
6. TradaFor Vegetable Knife – Japanese Chef Vegetable Knife (Usuba Asian Knife)
Strong Points:
Pakkawood handle
Well balanced, beautiful design
Loved by many users
Value for money
If you're a fan of Japanese cuisine, then you'll appreciate the ease of use that comes with a good-quality Japanese chef knife. With its sleek design and sharp edges, this chef's knife will make your slicing tasks much easier.
Japanese chefs typically use this type of knife for preparing vegetables, meats, fish, and fruits. It's made from high-quality stainless steel that won't dull or rust.
This vegetable chopper knife is great to cut fruit and veggies, and it even works well for meat. You can also use it to cut pieces of bread and other foods.
The vegetable chopper knife has a single bevel edge for right-hand use. This helps prevent the user from accidentally cutting themselves with the sharp edge of the knife.
The handle is made from pakkawood, which is naturally antimicrobial and anti-bacterial, making it easier to clean up.
It's a great companion for the kitchen and will last for years to come. This is one of the best vegetable knives that I've used, and it's a must-have if you have a kitchen garden.
Rust-resistant and easy to maintain
Ergonomically designed for right-handers
Made from high-carbon stainless steel
Comfortable to hold
Thick and heavy
Needs frequent sharpening
7. WALLOP Vegetable Cleaver Knife – 7 inch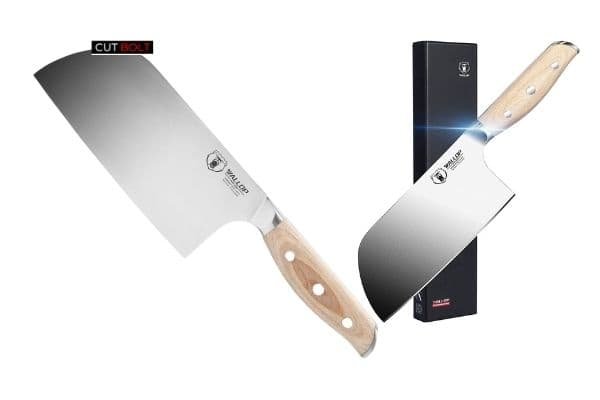 Strong Points:
Solid build
Perfect for cutting any types of vegetables
Wallop vegetable cleaver comes with a sharp, sturdy blade and a sharpened edge. It's perfect for chopping, slicing, and dicing vegetables. The vegetable cutter has a handy tip guard to protect your fingers when cutting. I love the curved blade (made of high-quality German stainless steel).
The blade stays sharp and doesn't dull over time. And it felt really good to use as it didn't have any resistance when using it. The pakkawood made handle is eco-friendly (no chemical dye used), which means that it's not harmful to the environment.
It has a tip guard, so you can safely cut with it. For smooth cutting of greens and fruits, a Wallop vegetable chopping knife is efficient and recommended. This is an excellent kitchen knife that will last for years.
Full tang knife
Sharp to cut through any vegetable
Safety and stability is the key
The handle is not well finished, many customers complained the tang of the knife is slightly higher than the handle
8. Paudin vegetable cutting nakiri knife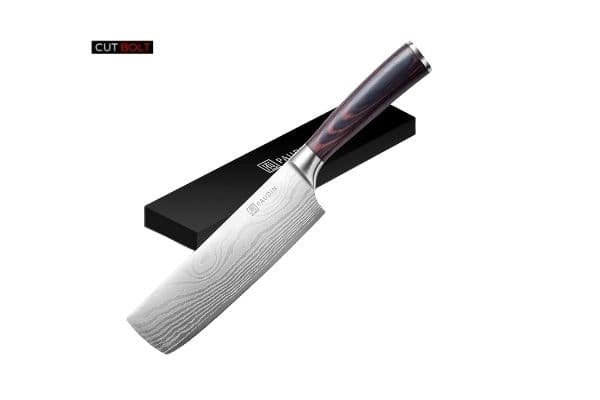 I have been using this knife for a few months now, and it's great! It does an excellent job of slicing through things like apples, onions, carrots, potatoes, etc.
It's an all-around kitchen knife that's also perfect for prepping your food. It's extremely sharp, so it cuts through anything you put on it without much effort. It also has a soft pakkawood handle that makes it very comfortable to hold.
It's super easy to sharpen, too – just use a steel to hone the edge down, and then give it a quick wipe with a paper towel to clean off any excess steel shavings.
I've never had any problems with it, and it still holds up after years of heavy use. I would recommend this to anyone looking for a great, long-lasting knife.
The high hardness of HRC56+ makes the meat cleaver stronger and harder
Ergonomic shape for comfortable grip and control
Precision forging engineering makes the blade more stable
Pakkawood handle is easy to maintain and beautiful
Needs frequent sharpening
9. KYOKU Nakiri Knife Damascus Steel (Shogun Series)
Strong Points:
Well balanced knife, let you cut without friction
VG10 Damascus steel
Triple-riveted G10 handle
Kyoku Nakiri Knives are one of the best knives I have ever used.
I have had my first Kyoku Nakiri for over a year now and it's still going strong. I use it all the time for slicing through vegetables and fruit. It's easy to sharpen too.
The knife has been made in Japan for over 100 years. The blades are forged using the traditional 3-step Honbazuke method, which results in incredible hardness, flexibility, and corrosion resistance. This process also makes them thinner than western knives, resulting in a more comfortable and balanced blade that doesn't require much pressure to cut.
The hollow-edge design of each blade ensures nothing sticks to the blade. Time-honored Japanese sword-making methods make each Kyoku custom knife appear unique and result in a thinner, harder, and sharper blade than western knives.
Its exclusive appearance is accented by a hammer-beaten wave pattern that gives way to a traditional Damascus steel design. The ergonomic handle is artistically accented with an engraved mosaic pin, revealing this knife's luxurious identity.
The metal blade extends the entire length of the handle to withstand punishing daily use without sacrificing comfortable handling and balanced performance.
Ultra-sharp blade, perfect for chopping vegetable
Full tang construction makes the knife stronger and more durable
Lifetime warranty
Weight is a bit high
Can get the mirror-finished sides scratched
10. DALSTRONG Nakiri Vegetable Knife (Japanese AUS-10V Super Steel, Hammered Finish)
Strong Points:
Tsuchime finish beautiful knife
67 layers of SUS410 Damascus
Hand polished spine
The Ultimate Vegetable Knife: An amazing kitchen utensil that makes chopping vegetables easy and fun. This knife is built from the ground up with cutting-edge technology and top-notch materials, creating a revolutionary experience. You'll be amazed at how this knife performs and look forward to using it every day.
One of the best knives in the world for chopping vegetables. A razor-sharp blade with a beautifully crafted, traditional Japanese tsuba (tassel). The high polish Tsubamehane (hamon) is hand-hammered to give it a mirror-like shine. The steel is nitrogen cooled to enhance flexibility and strength. The triple-riveted handle gives it added resilience. The finish is a tsuchime (Hamon) with a deep patina, which is extremely hard wearing and protects the blade from corrosion.
Delicous! This vegetable knife has a super sharp 62+ Rockwell hardness stainless steel cutting core and is perfect for a variety of slicing, dicing and chopping tasks. It has 67 layers of premium stainless steel to provide maximum durability and strength. This stunning blade has perfectly balanced layers that make it extremely stable and easy to sharpen.
Hand-polished, the ergonomic, contoured handle of this chef's knife is designed to perfection. It features a sleek, tapered spine that provides an ideal grip for controlled, slicing motions, as well as a comfortable, natural 'pinch' grip for quick and effortless cutting.
The blade's thickness of 0.75" means you'll have more room to work and a wider margin of error, which will help ensure perfectly uniform slices.
Razor-sharp edges, excellent for any type of cutting
Full tang to help maintain the sharpness and strength
Easy to clean and maintain
Extremely tough and robust
The handle is designed to be very comfortable and easy to grip
Price is high
Some users said – they had to sharpen it before first use (most of the users said its super sharp)
11. KITORY Nakiri Knife Vegetable Knife 7 Inch Japanese Kitchen Chef Knife
Strong Points:
Original Japanese nakiri knife for chopping vegetables
Lifetime replacement guarantee
When I bought my first vegetable knife, I went through reviews on Amazon that said the Kitory Japanese Nakiri was a great knife. So I decided to give it a try. I'm glad I did!
This knife is a great one for the kitchen! The handle is comfortable in your hand and the knife is very sharp out of the box. It's a double bevel sharp knife that is excellent for cutting vegetables. The blade is made from imported German stainless steel.
The pakkawood handle is polished and treated to make it ergonomic and fatigue-free use. The round-shaped handle is sturdy and non-slippery.
The best thing about this knife is the blade! It's super sharp and it cuts through anything. It's also very lightweight, so you can easily maneuver it around in tight spaces. The elegant-looking blade is easy to clean.
Overall, this is a great knife for everyday use and I highly recommend it!
Sharp, and safe for use in the kitchen
Easy to hold, light and comfortable to use
Durable and easy to clean
Not suitable for cutting meat
No dishwasher cleaning
Best type of knives for cutting vegetables:
Here are some specific types of knives that you can use for cutting vegetables:
Western Chef's knife
Our knife collection grows as we grow as cooks. The Western chef's knife is the first knife to find its forever home in the kitchen for most home cooks. It is seen as the most important tool in the kitchen. The Western chef's knife is usually referred to whenever the term "the chef's knife" is mentioned.
Most of the western chef's knives are of either German or French origin. It features a curved cutting edge with a thick heel and pointed tip. Once you master the rocking motion technique known as the "rock chop", you'll breeze through most of your veggie cutting tasks with the chef's knife.
Although chef's knives are used for cutting almost everything in the kitchen, still it is a good choice for cutting veggies.
The Santoku Knife
The Japanese Santoku knife is another ideal choice for working with veggies, making it small and light compared to its western counterpart. This little knife can be easily tucked into your pocket or clipped onto a belt loop.
Its tip is rounded instead of being pointed, and it features a sharpened edge that can be used with confidence. This knife is best for cutting veggies, fruits, and thin-skinned meats. The Granton (scalloped) edge helps to prevent ingredients from sticking to the blade and reduces the amount of effort needed to cut your ingredients.
Santoku knife is more like a multi-purpose knife and can cut through most of the ingredients in the kitchen. Still, if you are looking for chopping vegetables then santoku is a better choice.
The Nakiri Knife
Compared to the Western chef's knife, the Nakiri vegetable knife is a little lighter. Although they aren't nearly as versatile as the Santoku, they can still be used to process all kinds of vegetables. But due to the lack of versatility, the Nakiri is not recommended for cutting tough meats or bone.
If you are looking for an all-in-one knife then stick to a chef knife, though in the culinary world nakiri is the best knife for cutting vegetables.
The Gyuto Knife
A popular knife for cutting veggies is the Gyuto. It's similar in shape and size to a western chef's knife, but is thinner, has a double beveled edge and is usually smaller. It's great for cutting and can be used as an all-purpose knife in the kitchen. With a wide variety of vegetables to cut, including butternut squash and potatoes, I would recommend using a Western chef's knife as my best multi-purpose tool.
The Paring Knife
The paring knife is smaller than the others on this list, but it's also much more special because of its purpose. There are many kitchen knives, but the best is the paring knife. It is tiny, but it is extremely useful for slicing, peeling and dicing fruits and vegetables.
There are different shapes and sizes of paring knives. The Spear Point is a straight-edged, sharp-tipped paring knife that is used for all general-purpose slicing and paring. The Bird's Beak is perfect for peeling fruit that is rounded. The Sheep's Foot is larger than the Spear Point and is perfect for small items like garlic, ginger, and the like.
The straight edge paring knife is great for paring, peeling, and slicing small veggies. It's quick and easy to make thin slices of cucumber to top your gazpacho or to cut that apple into cubes while out on a picnic. But don't be fooled by its size, it's still sharp so be careful not to cut yourself when using it!
The Utility Knife
The utility knife is ideal for slicing and dicing your veggies. It's smaller than a chef's knife, and slightly larger than a paring knife. Think of it as your go-to knife when you're making a quick side dish or prepping some fresh herbs for a recipe.
This handy knife is perfect for preparing small meals and, you guessed it, sandwiches. It comes with a blade that's serrated on one side and a smooth side on the other, allowing for a clean cut without the typical jagged mess.
Which knife is best for cutting vegetables?
A Nakiri knife is best for cutting vegetables as it specializes in chopping greens.
Which is the best knife for cutting hard vegetables?
WALLOP vegetable cleaver knife is the best knife for cutting hard vegetables.
Final words: Best knife for cutting vegetables
In conclusion, it is not uncommon for chefs to use a chef's knife for the majority of their chopping. The chef's knife is used for more precise slicing and dicing, especially when it comes to delicate foods like vegetables, herbs, or onions. However, remember not to use a Nakiri knife for cutting meat, you can find the best knife for cutting raw meat here.
You will most likely want to invest in a paring knife for small cutting tasks, and a utility knife for larger, bulkier jobs. If you are a beginner, you can start with a small, inexpensive chef's knife. You can then graduate to a paring knife for smaller cuts, and eventually move on to a chef's knife.
If you want to know more about kitchen knives we are here.
Hope you loved our list of best knives for cutting vegetables, for any questions please comment below.
Mercer Culinary Nakiri Vegetable knife
High carbon x50 Cr Mo V15 rust and corrosion resistant steel from Soligen Germany. Build to perform efficiently while cutting and chopping vegetables.
Product SKU: B000OOQZWY
Product Brand: Mercer Culinary
Product Currency: $
Product Price: 37.99
Product In-Stock: InStock