The Nakiri is a popular knife for both cooking and cutting. If you're using it for cutting meat or slicing fruits, then the Gyuto is a better choice.
A knife specifically designed for cutting vegetables is called nakiri. It's great for slicing and chopping because it has a flat profile for even and clean cuts. The Japanese equivalent of the Western Chef's knife is the Gyuto, a multi-purpose tool that slices, cuts, and dices fruits and vegetables.
The Nakiri has a rectangular blade shape, and the Gyuto has a rounded design near the tip.
Discover the differences between these Japanese knives (Nakiri vs Gyuto) to find the most suitable one for you.
As most of the knife blades are made from carbon, you should check how to take care of a carbon knife.
Rapid-fire – differences between Nakiri and Gyuto
| | | |
| --- | --- | --- |
| | Nakiri | Gyuto |
| Uses | Cutting vegetables | General-purpose, also can use for cutting vegetables, fish and meat |
| Blade shape | Flat, thin and rectangular straight blade | The blade has a rounded shape towards the tip and flat towards the heel for rock cutting |
| Blade tip | The tip is not pointed | Pointed tip |
| Blade length | 5-7 inches | 7 to 14 inches, (9-10 inches are most popular) |
| Sharpening angle | 10-15 degrees, sometimes up to 20 degrees | 45 degrees on the whetstone |
| Cutting style | Up-down, push/pull slice | Rock-chop, horizontal cut, slicing and chopping |
| Ease of use | Need skills | Easy to use |
| Price | Available in budget price | On the pricer side |
| Origin | Japan | Japan – late 19th century |
Gyuto vs Nakiri Knife differences in a nutshell
Gyuto Knife Vs Nakiri Knife: Detailed Comparison
I'll be discussing the differences between the Nakiri knife and the Gyuto knife, and how to use them. I'll also go into detail about the features of each knife that make them unique.
By the end, you'll know which one you need between a Gyuto or Nakiri.
Origin
Nakiri knives are traditional Japanese kitchen knives that have been used for hundreds of years. As we said Nakiri is a specialist for vegetables. There was another knife famous in the 17th century, Deba Bocho or Deba knife for cutting meat and fish.

You will find a detailed history of the nakiri knife in our Nakiri vs Santoku discussion.
The traditional multi-purpose knives with a Western chef knife style were inspirations for the Gyuto knives. In Japanese culture, the Gyuto is a chef's knife. The knives have high carbon steel on the sides. The construction of the knives makes them more resistant.
Usage of Nakiri and Gyuto Knives
The lightweight build of the Nakiri makes it an excellent tool for preparing vegetables. It has a flat, thin cutting edge that can cut through fruits and vegetables without any hassle. You put any greens under a Nakiri, it will just effortlessly cut them. That is why Japanese people call it Nakiri (knife for cutting vegetables).
The Gyuto is a versatile knife that can be used for different tasks. It can be used to cut herbs, vegetables, and meat or fish. But gyuto is not a specialist like Nakiri. Gyuto does not have precision as good as the Nakiri. Gyuto can be an alternative to Santoku knife (but can't be a replacement to santoku knife). You can use it to cut through lots of ingredients at once though.
Blade Shapes and Edge- Gyuto vs Nakiri knife
Nakiri knives are made from high-carbon stainless steel, and they come in a variety of sizes, from 120mm to 240mm. The most popular sizes are 165mm and 180mm for home use.

In shape, Nakri has a flat and thin rectangular blade. The tall blade has comfortable knuckle clearance. It can use the entire length of the blade's cutting edge which gives you a clean cut.
Gyuto knives have a slightly rounded shape towards the tip and flat towards the heel of the blade. You can have an up-down cutting motion from the heel side and a rocking-chop cutting motion from the tip.
Tip of the Blade
If you prefer to pierce or puncture the food before slicing it, the Nakiri knife doesn't have a sharp pointed tip. Instead, you can split your ingredients into half using the upper end of the edge. Though it will work for thin vegetables. For meat or fish, this process is not suitable.
Unlike Nakiri knives, Gyuto knives come with a pointed tip which is good for reaching into meat or fish. You can also easily cut through or puncture vegetables with the pointed tip.
Apart from Gyuto and Nakiri another Japanese knife Santoku is very popular. Check Nakiri Vs Santoku knife here.
Knife Steel and construction
Blades are made of many different materials, and each has its own pros and cons. When it comes to traditional Japanese knives, the nakiri and gyuto are forged from a single piece of high-quality steel.
You will find many Nakiri and Gyuto knives are hand-hammered and Damascus design on them. The Damascus technique (hammering layers of thin steel) makes a knife a more durable and wavy patterned look.

While a number of different brands and types of blades exist, the blade steel used will vary greatly depending on the make, model, and brand of the blade.
The most common blade steels used in Japanese knives are AUS-8 or VG10. They contain high carbon Stainless Steel and are used in many hunting knives. It has excellent edge-holding properties and is commonly found in kitchen knives and other household tools.
Blade Length
Popular blade sizes of Nakiri knives are 5 to 7 inches in length. The smaller blade length allows you to slice and dice without having to reach over a cutting board. It can cut through vegetables in a single pass.
Professionals and home users love nakiri knives as a specialist for cutting greens.
Whereas Nakiri knives are specialists, Gyutos are multipurpose. They can cut vegetables as well as fish and meat. For cutting a big chunk of meat or fish you need a pointed tip and a longer blade.
Gyuto knives are generally 7 to 14 inches long and it depends on how comfortable you are with the length. You can slice or cut more food volume at a time saving time. But as we know, the blade length – you will need a bigger space to use it. A professional setup is more suitable for a knife with a bigger blade.
Handle – Nakiri vs Gyuto knife
It is common to see Western-style handles on the gyuto, as the gyuto knife is inspired by the Western chef knife. You can also call it the Japanese version of the Western Chef knife.
Whether a gyuto knife's hand will have rivets or not depends upon the manufacturer. But most of the time the handles are designed ergonomically, so it is comfortable to hold and suitable for a longer period of use.
On the other hand, Nakiri knives are traditional Japanese knives having a Japanese-style handle. It couldn't be any different because Nakiri is a couple of centuries-old, bearing the flavor of ancient Japan.
You will find mainly octagonal-shaped wooden handles on nakiri knives (sometimes will find other materials used as nowadays many manufacturers around the world make Nakiri style knives).

Nakiri is a Japanese knife with a distinctive appearance and razor-sharp edge. It's light and ergonomic.
Modern knives have many types and materials for handles. Here are the two most sought-after handle materials.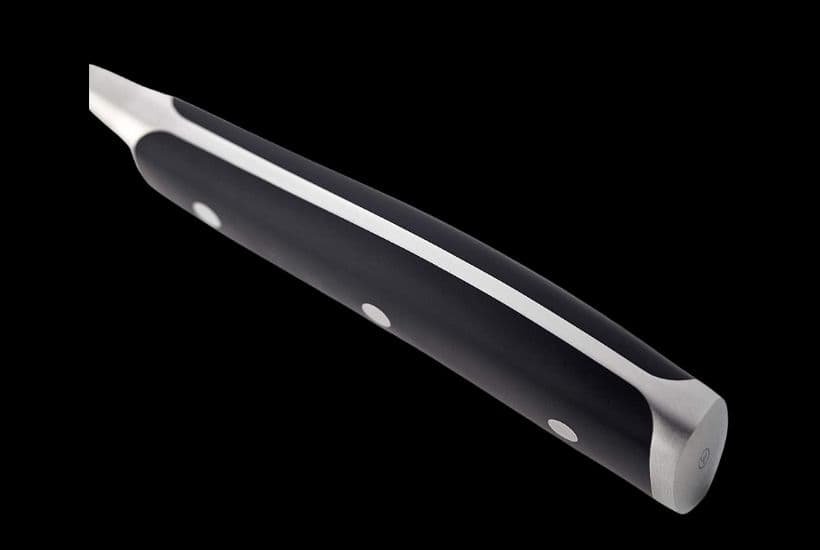 Sharpening Angle difference between gyuto and nakiri knife
Sharpen Nakiri knives at an 18 to 20-degree angle to the whetstone. This angle will remove material to produce a razor-sharp cutting edge without damaging the cladding. Experiment with the blade to find the angle that feels better for you.
Sharpen your nakiri knife at a 10 to 15-degree angle on both sides. Sharpening at 15 degrees makes knives more durable and sturdy structure. At 10 degrees the knife is sharper but it can make a knife fragile.

Safety Warning — Avoid using oil or water on the whetstone to avoid excessive build-up of sludge, which may cause its surface to become slippery.
Hold the knife at a 45-degree angle to the whetstone, or the angle of the knife to the stone. Put your left hand in the place you want to sharpen and move back and forth around 20 times. You will find it easier to sharpen a gyuto knife easier than nakiri. Gaytu knives can be sharpened like most of the other knives. But to shape a nakiri you will need to learn to find the correct angle.
Ease of Use
You can use a Nakiri knife with your arm straight or bent at a 90-degree angle to your body. The 45-degree position, however, will be easier to use and will keep your arm from running into your body. It is easier and more comfortable also. However, you should try and find a suitable position for yourself.
Gyuto knives do not have any specific posture or cutting angle. You don't need to learn anything special. Just hold the knife and start cutting. Rock-chop motion or up-down motion whatever you need. In simple words, its easier to use a gyuto knife.
As nakiri and gyuto have different uses you should read about the best vegetable knives and best knives for cutting chicken.
Which one is your knife – Gyuto or Nakiri?
If you want a knife that can handle slicing through vegetables without smashing them, then a Nakiri knife is the perfect choice. Nakiri is lightweight and easy to use. Also, you get better control and precision cut with a nakiri knife.
Gyuto knives are excellent for all tasks in the kitchen. They are great for cutting vegetables, fruits, and even meats. Use them to master different cutting techniques instead of just chopping vegetables. That's it for this review!
Though Gyuto is not an all-rounder, still it can manage vegetables, fish and meat well. The result is decent. If you are looking for a multi-tasking knife then go for Gyuto. While Nakiri is a specialist for greens.
So, for use cases, gyuto will give you a decent cutting experience and Nakiri will manage all your vegetables in the kitchen. If you need a knife especially for cutting, chopping vegetables then Nakiri is the way to go.