Carbon steel knives are coveted in kitchens for their incredible sharpness and edge retention. However, carbon steel is prone to rusting and needs proper care and cleaning to prevent damage over time. So, how to clean carbon steel knife and make it long-lasting?
Maintaining your carbon steel knives with regular cleaning and oiling will keep them looking great and performing like new for many years.
In this detailed guide, we will go over all the steps and best practices for keeping your carbon steel knives clean and protected.
Why keeping carbon steel knives clean is important
Before jumping into the how-to, let's look at why proper cleaning and care are so crucial for carbon steel blades.
Carbon steel is revered for its ability to take an extremely sharp edge. The high carbon content allows for much greater hardness than stainless steel. This hardness enables impressive edge-taking and retention.
However, the other side of this hardness is increased brittleness. Hard carbon steel can chip or crack if mistreated.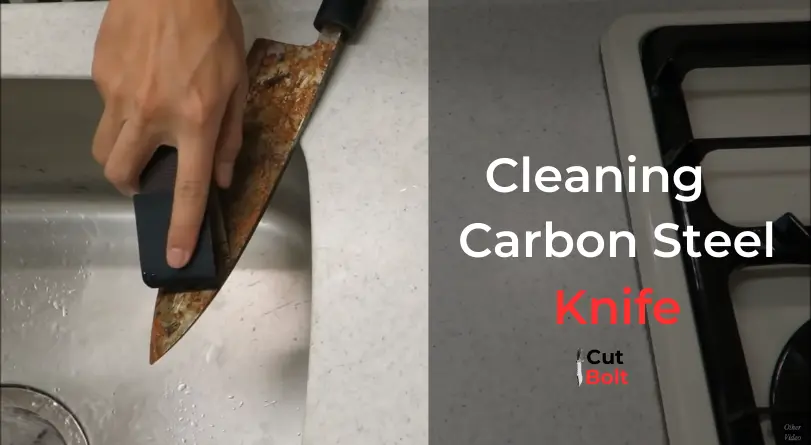 Carbon steel is also prone to rusting and corrosion since it lacks the chromium content of stainless steel. When exposed to moisture and oxygen, it can develop unsightly red rust spots or more severe pitting.
That's why habits like washing, drying, and oiling after each use are so important. Cleaning away food debris prevents staining or corrosion. Quickly applying an oil barrier prevents oxygen from reaching the reactive steel.
With proper care, a carbon steel blade can last for decades or even generations. Without it, they can degrade quite quickly. The small upfront investment of time pays off exponentially in the long run.
Find out the differences between carbon steel knives and stainless steel knives and which one is easy to maintain.
Supplies you'll need for cleaning carbon steel knives
Cleaning carbon steel knives doesn't require exotic or expensive supplies. Here are the basic items you'll want to keep on hand:
Mild Dish Soap: Any basic liquid dish soap will work well. Avoid harsh soaps or cleaners not intended for kitchen use.
Soft Sponge or Cloth: For washing blades, you'll want something ultra-soft that won't scratch. Microfiber cloths are ideal. Soft sponges also work.
Vegetable Oil or Knife polishing Oil: For coating blades to prevent rust and stain. Food oils like olive oil can go rancid.
Vinegar (optional): White vinegar helps remove stuck-on grime or stains. It's also great for deodorizing.
Baking Soda (optional): Mixed with water, baking soda makes a gentle polishing paste.
Steel Wool (optional): Ultrafine 0000 grade steel wool can gently remove stubborn rust if needed.
Having these basic supplies on hand will allow you to keep your carbon steel knives clean and cared for. Now let's get into the techniques and processes.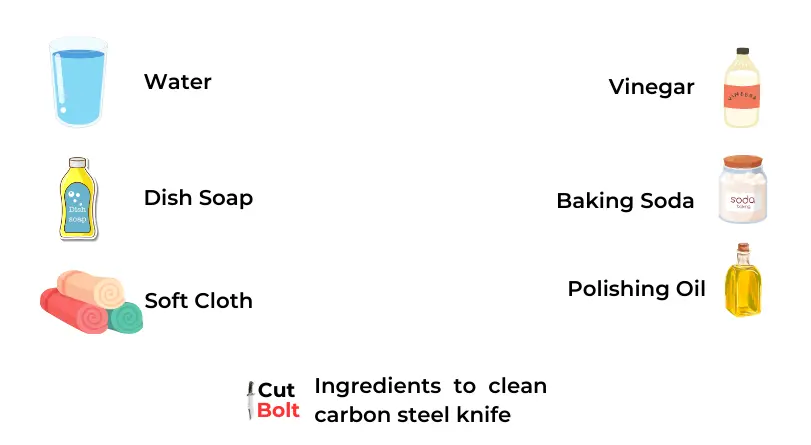 Cleaning Carbon Steel Knives after Each Use
The most vital habit for carbon steel care is washing it shortly after each use. Don't allow food residue or juices to dry on the blades. Here are the key steps:
Step 1: Rinse Blade: After use, rinse the blade under warm running water. This washes away any food particles, juices or debris. Allow 10-15 seconds under the tap.
Step 2: Wash Gently With Soap: Apply a drop of mild dish soap to a soft sponge, cloth or microfiber pad. Gently wash the blade, handle, bolster and spine. Avoid scrubbing too hard.
Step 4: Rinse Away Soap: Rinse thoroughly with clean running water. Repeat rinsing if needed to remove all soap residue. Allow the blade to fully air dry.
Step 5: Apply Protective Oil: Put a very thin layer of mineral oil, food-grade mineral oil, or camellia oil over the blade. This helps prevent rust and stains from developing.
This quick cleaning ritual only takes a minute or two. But it's vital for keeping carbon steel in great shape after prep or meal making.
How to clean carbon steel knife: Regular maintenance cleaning
In addition to post-use cleaning, carbon steel knives also benefit from more thorough periodic cleaning. This helps remove any unseen buildup and prevent stubborn stains.
Baking Soda Paste: Make a paste with baking soda and water. Gently rub over the blade with a soft cloth to clean and polish. Rinse thoroughly afterward.
Vinegar Wash: Undiluted white vinegar can dissolve stuck-on grime and deodorize. Dampen a cloth with vinegar and wipe the blade. Rinse completely after.
Optional Steel Wool: For removing stubborn stuck-on rust spots, very fine 0000-grade steel wool can be used gently in the direction of the blade finish. Avoid scrubbing too hard.
Reapply Protective Oil: After any maintenance cleaning, immediately reapply a thin layer of mineral or vegetable oil before storing.
Aim for doing this type of deeper cleaning once a week or as needed. It will keep your carbon steel knives spotless.
How to deal with rust on Carbon Steel Knives?
If some light surface rust does develop on your carbon steel blade, don't fret. Surface-level rust can be removed with a little work.
First, try a baking soda paste or vinegar wash as discussed above. For more stubborn rust spots, gently rub in the direction of the blade finish with ultra-fine 0000-grade steel wool.
Right after removing the rust, rinse, dry thoroughly, and reapply a thin oil coating. This helps prevent recurrence in that area. Prompt removal followed by oiling usually stops rust in its tracks.
If rust is allowed to set in unchecked, pitting and red staining can occur. At that point, the integrity of the blade may be compromised. Catching it early is key.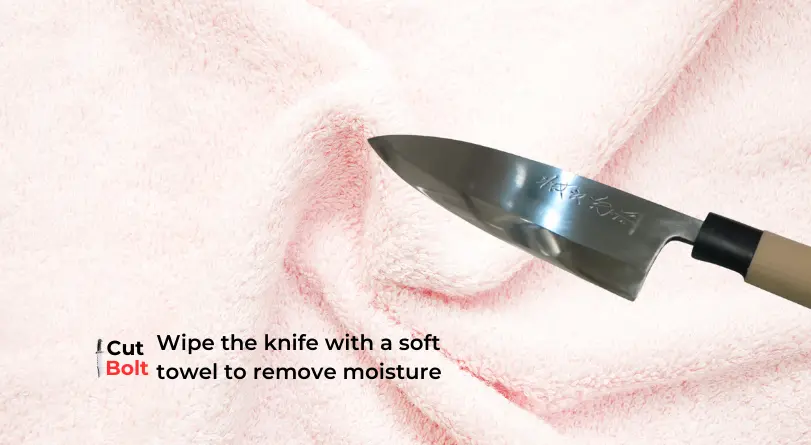 How to store carbon steel knives correctly?
Proper knife storage between uses is also paramount for preventing rust and stains. Here are some storage tips:
Ensure Knife is Completely Dry: No moisture or dampness should be present before storing.
Apply Protective Oil: Wipe the entire blade with a thin layer of mineral oil or food-safe vegetable oil.
Store in Block or Sheath: Keep the knife secured in a block, sheath or saya. Never loose in a drawer.
The goal of proper storage is to eliminate oxygen exposure and moisture contact: the factors that cause rust and corrosion.
Do's and Don'ts of carbon steel knife care
Here are a few key do's and don'ts to remember when caring for your carbon steel blades:
DO:
Wash, dry and apply oil after each use
Use mild soap and soft cloths/sponges
Remove rust promptly if it appears
Store cleaned knives in block or sheath
DON'T:
Let food or juices dry on the blade
Scrub hard or use harsh cleaners
Leave it in the sink or dishwasher
Store loose in a drawer
Follow the DO's, and avoid the DON'Ts, and your knives will be trouble-free for years.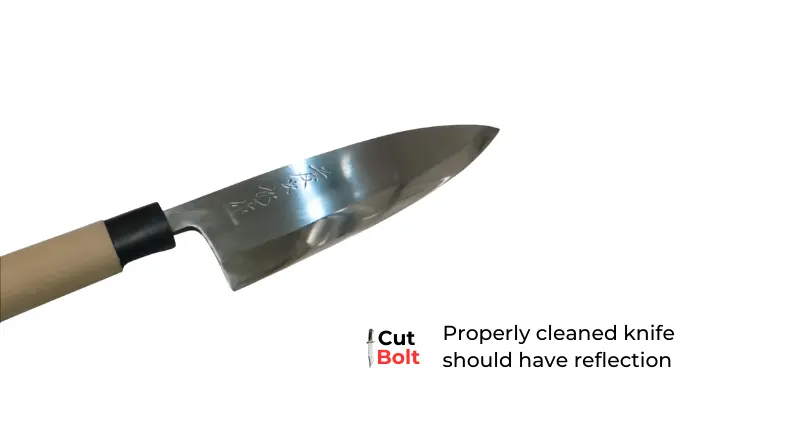 Summary: How to clean carbon steel knife
While carbon steel knives demand more care than stainless, the benefits of incredible edge-taking, retention and general performance are more than worth it.
By making post-use cleaning and oiling a habit, and doing regular deeper maintenance, your carbon steel knives will only improve with age. Their unique properties get better over time when cared for properly.
With these tips, you can keep your carbon steel knives in amazing condition for many years of precision cutting. They may even get passed down to future generations!
So grab that mild soap and mineral oil and care for those incredible blades. Your tastebuds and cooking will thank you!